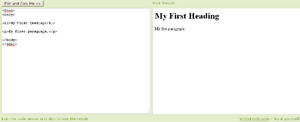 About
Hyper Text Markup Language (HTML) is the predominant markup language for web pages. HTML elements are the basic building-blocks of webpages.
HTML is written in the form of HTML elements consisting of tags, enclosed in angle brackets (like <html>), within the web page content. HTML tags normally come in pairs like. The first tag in a pair is the start tag, the second tag is the end tag (they are also called opening tags and closing tags). In between these tags web designers can add text, tables, images, etc... Often times, you will see file names with a file extension .html or .htm designated after it.
The purpose of a web browser is to read HTML documents and compose them into visible or audible web pages. The browser does not display the HTML tags, but uses the tags to interpret the content of the page.
HTML elements form the building blocks of all websites. HTML allows images and objects to be embedded and can be used to create interactive forms. It provides a means to create structured documents by denoting structural semantics for text such as headings, paragraphs, lists, links, quotes and other items. It can embed scripts in languages such as JavaScript which affect the behavior of HTML webpages.
Code
A sample HTML code for your web browser.
<html> <body>
My First Heading
My first paragraph.
</body>
</html>
References
Links
Video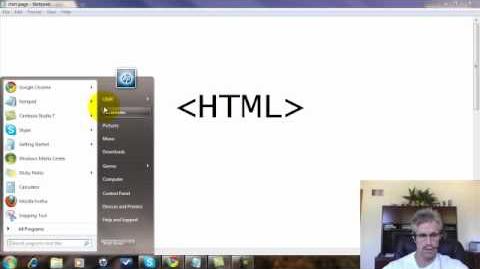 Ad blocker interference detected!
Wikia is a free-to-use site that makes money from advertising. We have a modified experience for viewers using ad blockers

Wikia is not accessible if you've made further modifications. Remove the custom ad blocker rule(s) and the page will load as expected.