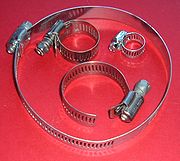 About
A hose clamp or hose clip is a device used to attach and seal a hose onto a fitting such as a barb or nib. A hose clamp is not the same as a pipe clamp which is a clamp made partly out of a pipe, not a clamp for clamping pipe.
Screw clamps consist of a band (usually stainless steel in the USA) into which a screw thread pattern has been cut or pressed. One end of the band contains a captive screw. The clamp is put around the hose or tube to be connected, with the loose end being fed into a narrow space between the band and the captive screw. When the screw is turned, it acts as a worm drive pulling the threads of the band, causing the band to tighten around the hose (or when screwed the opposite direction, to loosen). Screw clamps are normally used for hoses 1/2 in diameter and up, with other clamps used for smaller hoses.
Pairs of screw clamps on a short rubber unit form a "no-hub band," often used for attaching sections of domestic wastewater piping, or used for other pipes as a flexible coupler (to fix alignment difficulties or to prevent pipe breakage due to relative movement of sections) or an emergency repair.
They can also be used in a similar way, as a simple means for the transmission of small amounts of power. A short length of hose is clipped between two shafts where vibration or variations in alignment may be taken up by the flexibility of the hose. This technique is well adapted to use for mock-ups in a development laboratory.
This type of clamp was invented in 1921 by ex Royal Navy Commander, Lumley Robinson, who founded L. Robinson & Co (Gillingham) Ltd., a business in Gillingham, Kent. The company owns the trademark for Jubilee Clip.[1]
Links
References
Ad blocker interference detected!
Wikia is a free-to-use site that makes money from advertising. We have a modified experience for viewers using ad blockers

Wikia is not accessible if you've made further modifications. Remove the custom ad blocker rule(s) and the page will load as expected.