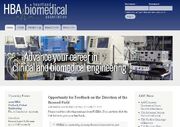 About
The Heartland Biomedical Association is a group of clinical professionals dedicated to the advancement of the clinical and biomedical engineering profession. We offer our members a variety of educational presentations and seminars as well as many fun activities throughout the year. Centered in Omaha Nebraska and dedicated to Biomedical Education.
Contacts
Events
Our next meeting will be a 2 day Symposium in November.
Links
Reference
Ad blocker interference detected!
Wikia is a free-to-use site that makes money from advertising. We have a modified experience for viewers using ad blockers

Wikia is not accessible if you've made further modifications. Remove the custom ad blocker rule(s) and the page will load as expected.