About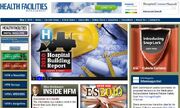 Health Facilities Management, a publication of the American Hospital Association, is the most trusted and credible publication in its field. HFM provides the most comprehensive coverage of the unique challenges facing health facility design/architecture, construction and operations communities. We report on the latest trends in hospital construction and renovations, illustrating unique building projects. Through our close working relationships with facilities managers, consultants, equipment suppliers and industry leading architectural (ACHA), engineering (ASHE) and health care environmental services organizations (ASHES), we offer exclusive access to experts who keep readers abreast of the latest industry changes.
Website
Ad blocker interference detected!
Wikia is a free-to-use site that makes money from advertising. We have a modified experience for viewers using ad blockers

Wikia is not accessible if you've made further modifications. Remove the custom ad blocker rule(s) and the page will load as expected.