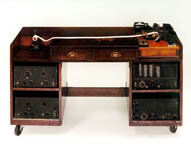 About
In 1994, Grass Instrument became part of Astro-Med, Inc. Astro-Med designs, manufactures, and sales data acquisition and graphic recording systems for use in a wide variety of industrial, aerospace, and medical applications.
The growth and innovations of Grass Instrument, founded by Albert Grass who developed the first commercially successful electroencephalograph (EEG).
Reference
Links
Products
Contact
World Headquarters
Astro-Med Industrial Park
600 East Greenwich Avenue
West Warwick, RI 02893 U.S.A.
phone: 401-828-4000 . fax: 401-822-2430
toll-free: 1-877-472-7779 (U.S.A. & Canada only)
e-mail: grass@astromed.com
web site: www.GrassTechnologies.com

Links
Ad blocker interference detected!
Wikia is a free-to-use site that makes money from advertising. We have a modified experience for viewers using ad blockers

Wikia is not accessible if you've made further modifications. Remove the custom ad blocker rule(s) and the page will load as expected.