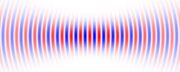 About
In optics, a Gaussian beam is a beam of electromagnetic radiation whose transverse electric field and intensity (irradiance) distributions are described by Gaussian functions. Many lasers emit beams with a Gaussian profile, in which case the laser is said to be operating on the fundamental transverse mode, or "TEM00 mode" of the laser's optical resonator. When refracted by a lens, a Gaussian beam is transformed into another Gaussian beam (characterized by a different set of parameters), which explains why it is a convenient, widespread model in laser optics.
The mathematical function that describes the Gaussian beam is a solution to the paraxial form of the Helmholtz equation. The solution, in the form of a Gaussian function, represents the complex amplitude of the electric field, which propagates along with the corresponding magnetic field as an electromagnetic wave in the beam.
Links
Reference
Ad blocker interference detected!
Wikia is a free-to-use site that makes money from advertising. We have a modified experience for viewers using ad blockers

Wikia is not accessible if you've made further modifications. Remove the custom ad blocker rule(s) and the page will load as expected.