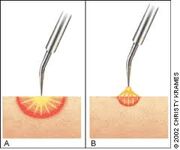 About
Fulguration, also called electrofulguration, is the destruction of tissue by means of a high-frequency electric current applied with a needlelike electrode. In fulguration, the electrode is held away from the skin to produce a sparking at the skin surface and more shallow tissue destruction Fulguration is especially useful in treating superficial epidermal lesions, such as a superficial basal cell carcinoma of the trunk.[1]
Links
Reference
↑ http://www.aafp.org/afp/2002/1001/p1259.html | Electrosurgery for the Skin | BARRY L. HAINER, M.D.,RICHARD B. USATINE, M.D., | Am Fam Physician. 2002 Oct 1;66(7):1259-1267
Ad blocker interference detected!
Wikia is a free-to-use site that makes money from advertising. We have a modified experience for viewers using ad blockers

Wikia is not accessible if you've made further modifications. Remove the custom ad blocker rule(s) and the page will load as expected.