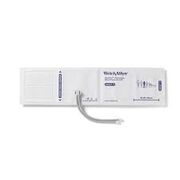 About
"The patented FlexiPort fitting, integrated into each and every Welch Allyn cuff, eliminates confusing tube and connector fittings to let you use a single cuff on virtually any blood pressure device. No more y-tubes, tethers or confusion involved with finding the right connector configurations to fit a specific device. Simply apply the correct cuff size to your patient and save the time required to remove and apply multiple cuffs to patients as they take readings with different devices."[1]
Link
References
Ad blocker interference detected!
Wikia is a free-to-use site that makes money from advertising. We have a modified experience for viewers using ad blockers

Wikia is not accessible if you've made further modifications. Remove the custom ad blocker rule(s) and the page will load as expected.