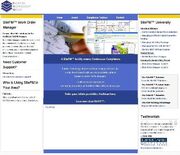 About
"Founded in 1990, and based in Austin, Texas, we have provided services to industry-leading companies, including Dell, AT&T, Computer Science Corporation, and many Texas regional healthcare organizations such as Texas Children's and St David's Healthcare. In 2004, we changed our name from Blade Technologies Inc., as we redirected our substantial facility management knowledge and in-depth healthcare plant operations expertise to exclusively serve the healthcare marketplace."[1]
Products
SiteFM
Contacts
1110 East 32nd Street, Building 2
Austin, TX 78722
Phone: 512-480-0883
Fax: 512-233-2559
Toll Free: 1-800-568-8003

Links
References
Ad blocker interference detected!
Wikia is a free-to-use site that makes money from advertising. We have a modified experience for viewers using ad blockers

Wikia is not accessible if you've made further modifications. Remove the custom ad blocker rule(s) and the page will load as expected.