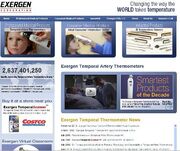 About
Exergen creates non-invasive temperature measurement devices providing lower cost, higher accuracy, less invasive, and greater reliability than ever previously possible.
Contact
400 Pleasant St. Watertown, MA 02472
Toll Free : 1-800-422-3006
Phone : 617-923-9900 Fax : 617-923-9911

Products
Links
References
Ad blocker interference detected!
Wikia is a free-to-use site that makes money from advertising. We have a modified experience for viewers using ad blockers

Wikia is not accessible if you've made further modifications. Remove the custom ad blocker rule(s) and the page will load as expected.