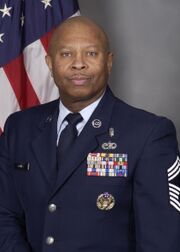 About
In June 2008, CMSgt Dennis Boney, a one-time electronic warfare systems specialist who cross-trained early in his career, took charge. He focused on reshaping the career field to continue to meet contingency needs at a time of force reductions across the entire Air Force. In addition, he drove a change in the MERC landscape, moving operations from Sheppard AFB to Lackland AFB. Finally, he oversaw the technical school transformation from Sheppard AFB to Fort Sam Houston. Prior to serving as CFM, he served in various positions including Group Superintendent.
References
Links
Ad blocker interference detected!
Wikia is a free-to-use site that makes money from advertising. We have a modified experience for viewers using ad blockers

Wikia is not accessible if you've made further modifications. Remove the custom ad blocker rule(s) and the page will load as expected.