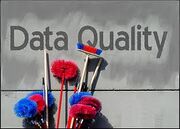 About
Accurate, comprehensive data is needed in any automated medical equipment management system. Data quality initiatives can help to insure the accuracy of clinical/biomedical engineering data. The data needed to establish basic, accurate, maintainable automated records for medical equipment management includes: nomenclature, manufacturer, nameplate model, serial number, acquisition cost, condition code, and maintenance assessment. Other useful data could include: warranty, location, other contractor agencies, scheduled maintenance due dates, and intervals.
DQM Fields
These fields are vital to ensure appropriate maintenance is performed, equipment is accounted for, and devices are safe for use in patient care.
Nomenclature: It defines what the device is, how, and the type of maintenance is to be performed. Common nomenclature systems are taken directly from the Emergency Care Research Institute (ECRI) Universal Medical Device Nomenclature System.
Manufacturer: This is the name of the company that received approval from the FDA to sell the device, also known as the Original Equipment Manufacturer (OEM)
Nameplate model: The model number is typically located on the front/behind of the equipment or on the cover of the service manual and is provided by the OEM. E.g. Medtronic PhysioControl's Lifepak 10 Defibrillator can actually be anyone of the following correct model numbers listed: 10-41, 10-43, 10 -47, 10-51, and 10-57.
Serial number: This is usually found on the data plate as well, is a serialized number (could contain alpha characters) provided by the manufacturer. This number is crucial to device alerts and recalls.
Acquisition cost: The total purchased price for an individual item or system. This cost should include installation, shipping, and other associated costs. These numbers are crucial for budgeting, maintenance expenditures, and depreciation reporting. Condition code: This code is mainly used when an item is turned in and should be changed when there are major changes to the device that could effect whether or not an item should be salvaged, destroyed, or used by another Medical Treatment Facility.
Maintenance assessment: This assessment must be validated every time a BMET performs any kind of maintenance on a device.
Several other management tools, such as equipment replacement planning and budgeting, depreciation calculations, and at the local level literature, repair parts, and supplies are directly related to one or more of these fundamental basics. Data Quality must be tracked monthly and all discrepancies must be corrected.
Links
The Advantages of DQM from 24x7 magazine, November 2009
Ad blocker interference detected!
Wikia is a free-to-use site that makes money from advertising. We have a modified experience for viewers using ad blockers

Wikia is not accessible if you've made further modifications. Remove the custom ad blocker rule(s) and the page will load as expected.