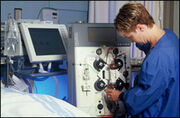 About
In medicine, Continuous Renal Replacement Therapy or namely called hemofiltration, is a renal replacement therapy similar to hemodialysis which is used almost exclusively in the intensive care setting. Thus, it is almost always used for acute renal failure. It is a slow continuous therapy in which sessions usually last between 12 to 24 hours and are usually performed daily. During hemofiltration, a patient's blood is passed through a set of tubing (a filtration circuit) via a machine to a semipermeable membrane (the filter) where waste products and water are removed. Replacement fluid is added and the blood is returned to the patient.
Manufacturers
Suggested Sources
Suggested Parts
References
Links
Ad blocker interference detected!
Wikia is a free-to-use site that makes money from advertising. We have a modified experience for viewers using ad blockers

Wikia is not accessible if you've made further modifications. Remove the custom ad blocker rule(s) and the page will load as expected.