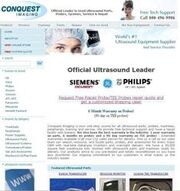 About
"Conquest Imaging is your one-stop source for all ultrasound parts, probes, machines, peripherals, training and service. We provide free technical support and have a repair facility with loaners. We also have the best warranty in the industry: 1 year warranty on parts and 6 months on probes (excluding TEE) . Give us a call as our sales team can search, resource, and locate parts, probes, and accessories for every major OEM with real-time database inventory and overnight delivery. We have a 30,000 square feet warehouse fully stocked with ultrasound parts and machines ready for delivery. Our products arrive to you pre-tested and totally reconditioned so you have less downtime! Our ongoing commitment to our customers is what makes us the industry leader." [1]
Contact
Conquest Imaging
3728 Imperial Way, Ste B
Stockton, CA 95215
Toll Free Phone Number from North America 1.800.496.9906
Main Telephone Number 1.209.942.2654
Fax Telephone Number 1.209.942.2572

Links
References
Ad blocker interference detected!
Wikia is a free-to-use site that makes money from advertising. We have a modified experience for viewers using ad blockers

Wikia is not accessible if you've made further modifications. Remove the custom ad blocker rule(s) and the page will load as expected.