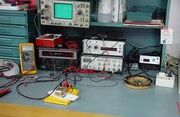 About
Clinical Engineering Facilities are structures or rooms used or intended for supporting and sheltering any use or continuous occupancy, or medical equipment that belongs to a medical facility. Typically, a well constructed area should include an administrative area and a shop area. The shop area must be adequate in size and equipped with proper tools and test equipment to perform the maintenance functions. It should enable all the necessary maintenance tasks to be performed in the shop itself. It is highly recommended that the clinical engineering facility be easily accessible or co-located within the hospital to avoid outside environmental damage (i.e. rain, wind, snow, excessive heat, and humidity) to the expensive medical equipment while being transported to and from the shop area. It is also recommended that satellite clinics establish small areas too. Lastly, always ensure your area is clean and uncluttered to avoid serious work mishaps.
Facilities Requirements
Common facilities requirements should include:
Sensitive electronics area: Room should be environmentally controlled, dust-free room (as much as possible) used to calibrate and maintain intricate sensitive equipment such as anesthesia equipment, audiometers, fiber optic systems, lasers, and ventilators.
Equipment storage area: Secure area or room where you can store equipment awaiting parts or maintenance without theft, excessive dust, moisture, and other adverse environmental elements.
Repair parts storage area: Secure area or room where you can properly store and safeguard repair parts.
Administrative area: A well-lit area for administrative functions and customer help-desk.
General work area: A well-lit area for technician workbenches, equipment disassembly, and location of drill presses and other large shop equipment.
Utility Requirements
Common utility requirements should include:
multiple 110 volt duplex outlets
one 220 volt, 60 amp single AC power outlet
one 220 volt, 60 amp three-phase AC power outlet
adequate lighting and telephone service
emergency eyewash
internet, fax, and LAN connectivity
medical air
nitrous oxide and scavenging system (if have anesthesia devices)
vacuum system
ventilation and temperature control
wash sink.
Handicap accessible
Reference
Links
Ad blocker interference detected!
Wikia is a free-to-use site that makes money from advertising. We have a modified experience for viewers using ad blockers

Wikia is not accessible if you've made further modifications. Remove the custom ad blocker rule(s) and the page will load as expected.