Certified Biomedical Equipment Technician
Talk

0
1,607pages on
this wiki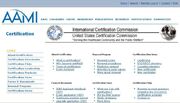 Certified Biomedical Equipment Technician (CBET) is a certification for BMETs offered by the International Certification Commission (ICC) at testing centers around the world. In order to take the certification test, applicants may have a minimum of two years experience working as a BMET, training as a DOD BMET, or an equivalent two year degree in biomedical instrumentation.
The test covers five subject areas: Anatomy and physiology, Electronics principles, safety issues, equipment operation, and equipment troubleshooting. The test is 150 questions of which you must answer 105 correct questions (70%) to pass the exam.
Specialized certifications are available for Certified Radiology Equipment Specialists (CRES), and Certified Laboratory Equipment Specialists (CLES).
Study Information
Edit
Online CBET Study Forum  This forum will allow you to study with other BMETs who are pursuing their certification, just like you. Watch webstreamed training videos, have access to printable study guides, and take practice tests on the videos that you have watched and discussed. Not to mention, instant chatting, forum discussion, private chats and email.
New military BMETs: Take the CBET exam as soon as possible. The Air Force 5-skill level test is very similar to the CBET exam. You really only need to study for one of them to pass them both!
Association for the Advancement of Medical Instrumentation AAMI offers a Study Guide for BMET Certification. Call AAMI Publications at 240-646-7031, 877-249-8226 or fax 301-206-9789.
Example questions
Edit
Disclaimer: The following are not actual test questions.
1. What is fibromyalgia?
2. What does "Rhino" mean?
3. What does a "D" connector on a computer do?
4. An illness or infection that was acquired while in the hospital is called?
5. The IEEE standard for Ethernet communication is?
Study Groups
Edit
Colorado Association of Biomedical Equipment Technicians
Reference
Edit