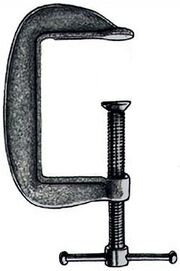 About
C-clamps are typically made of steel or cast iron, though smaller clamps may be made of pot metal. At the top of the "C" is usually a small flat edge. At the bottom is a threaded hole through which a large threaded screw protrudes. One end of this screw contains a flat edge of similar size to the one at the top of the frame, and the other end usually a small metal bar, perpendicular to the screw itself, which is used to gain leverage when tightening the clamp. When the clamp is completely closed, the flat end of the screw is in contact with the flat end on the frame.[2] When the clamp is actually used, it is very rare that this occurs. Generally some other object or objects will be contained between the top and bottom flat edges.
Reference
Links
Ad blocker interference detected!
Wikia is a free-to-use site that makes money from advertising. We have a modified experience for viewers using ad blockers

Wikia is not accessible if you've made further modifications. Remove the custom ad blocker rule(s) and the page will load as expected.