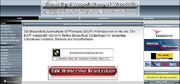 About
The Biomedical Associations of Wisconsin (BAW) welcomes you to our site. The BAW continually strives to further Biomedical Technologies by promoting Educational Facilities, Students and Manufacturers.
History
In 2008, BAW held an Annual Meeting and featured several short courses in the Green Bay area.
Events
BAW 2011 Conference October 19-21st, 2011 La Crosse
References
Link
Ad blocker interference detected!
Wikia is a free-to-use site that makes money from advertising. We have a modified experience for viewers using ad blockers

Wikia is not accessible if you've made further modifications. Remove the custom ad blocker rule(s) and the page will load as expected.