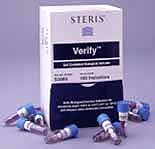 Biological Indicators are for use in monitoring all common health care steam sterilization (including 270°F "flash" ) or ethylene oxide (EO) gas sterilization processes.
Each indicator is completely self-contained, combining a disc inoculated with dual spore species (Bacillus stearothermophilus and Bacillus subtilis var. niger) and an ampule of specially formulated soybean casein digest growth medium with a pH indicator. The Verify Biological Indicator is designed to be sealed after processing, reducing the risk of contamination (and consequent false positives) or growth medium evaporation.
Reference
Ad blocker interference detected!
Wikia is a free-to-use site that makes money from advertising. We have a modified experience for viewers using ad blockers

Wikia is not accessible if you've made further modifications. Remove the custom ad blocker rule(s) and the page will load as expected.