About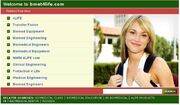 "BMET4Life.com is a project started by Chris Miguel and Nghia Nguyen. Our goal is to provide the latest news from the Biomedical Equipment Technician field and to create a community of Biomedical Equipment Technicians (BMET) who share ideas and best practices. At this time BMET4Life.com is at its infancy but in the days to come we will be offering articles regarding all aspects of our profession. Please feel free to give your comments or suggestions to make this website as informative and user friendly as possible."[1]
Website
BMET4Life Update 9/30/11 website dead
Reference
Ad blocker interference detected!
Wikia is a free-to-use site that makes money from advertising. We have a modified experience for viewers using ad blockers

Wikia is not accessible if you've made further modifications. Remove the custom ad blocker rule(s) and the page will load as expected.