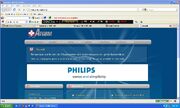 About
Welcome to the website of the Association of Biomedical Engineering Technologists (ATGBM). In Quebec, the first electronic technicians to intervene on medical devices in hospitals appeared in the late 50s. In scattered, at first they were attached to specific departments such as cardiology and radiology. They had as main task to become familiar with some devices for general maintenance.
They accepted the challenge with very good results, but overall, in difficult conditions due to lack of training, information and appropriate measuring equipment.
However, the rapid development of high technology in the medical field has led to the creation of a new specialty: biomedical engineering. Therefore, a new generation of players, such as engineers and technicians in biomedical engineering, have made their appearance in order to ensure a continuous link between human physiology and technology multisectoral.
Contact
Casier postal 77075
1185, boul. Moody, Terrebonne (Québec)
J6W 5S5
Courriel: info@atgbm.org
References
Links
Canadian Association of Biomedical Engineering Technologists (ATGBM) website
See also
Ad blocker interference detected!
Wikia is a free-to-use site that makes money from advertising. We have a modified experience for viewers using ad blockers

Wikia is not accessible if you've made further modifications. Remove the custom ad blocker rule(s) and the page will load as expected.