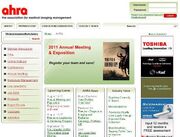 About
Association for Medical Imaging Management (AHRA)s the professional organization representing management at all levels of hospital imaging departments, freestanding imaging centers, and group practices. Founded in 1973, AHRA's 4000 members reach across the country and around the world. AHRA offers a complete slate of professional development programs including a comprehensive selection of educational conferences and seminars, networking opportunities, award winning publications, and the Certified Radiology Administrator (CRA) credential.
Contact
AHRA
490B Boston Post Rd.
Suite 200
Sudbury, MA 01776
Phone: 978-443-7591
Free: 800-334-2472
Fax: 978-443-8046
References
Links
Association for Medical Imaging Management
See also
Ad blocker interference detected!
Wikia is a free-to-use site that makes money from advertising. We have a modified experience for viewers using ad blockers

Wikia is not accessible if you've made further modifications. Remove the custom ad blocker rule(s) and the page will load as expected.