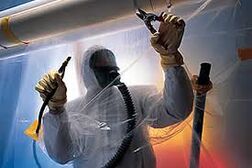 About
Asbestos is a highly regulated material, making it a natural target for any regulatory inspection or audit. It was also the "material of choice" for many building components prior to the 1970s, making it a ubiquitous hazardous material in many healthcare institutions. The OSHA standard for asbestos clearly establishes a number of requirements that a building owner/operator must comply with, including:
Hazard Communications
Working training
Exposure monitoring and determinations
Exposure control program
Asbestos inventory program
Respiratory protection
Hygiene and personal protective equipment
Labeling and signage
Medical monitoring and surveillance
Documentation and record-keeping
Each of these areas contains very specific responsibilities that must be met, the level of effort required to comply varies significantly, and depends upon a number of factors. The U.S. Environmental Protection Agency and many individual states also regulate asbestos and asbestos-containing materials, that in combination with the OSHA requirements, can create a significant EH&S challenge for most healthcare institutions. In Environmental Health and Engineering experience, well–managed asbestos management programs clearly define roles and responsibilities, and establish processes for routine (e.g., annual) audits to ensure regulatory compliance and program effectiveness. The fundamental goals of an asbestos management program are to:
Ensure the health and safety of patients, staff, visitors, contractors, and vendors
Minimize disruption to operations and renovation/construction activities
Maintain compliance with occupational and environmental regulations[1]
Asbestos Health Hazards Compensation Act of 1980
The inhalation of asbestos fibers can cause serious illnesses, including malignant lung cancer, mesothelioma (a formerly rare cancer strongly associated with exposure to amphibole asbestos), and asbestosis (a type of pneumoconiosis). Long exposure to high concentrations of asbestos fibers is more likely to cause health problems. There are associated health hazard and compensation for exposure to asbestos within the workplace. The Asbestos Health Hazards Compensation Act of 1980, established minimum workers' compensation standards for State and Federal asbestos-related exposure, death, or disability benefits. [2]
References
↑ Environmental Health and Engineering. Asbestos Violations the #1 OSHA Fine in Hospitals. March 21, 2008. VOLUME 1 ISSUE 20. [1]
Links
See also
Ad blocker interference detected!
Wikia is a free-to-use site that makes money from advertising. We have a modified experience for viewers using ad blockers

Wikia is not accessible if you've made further modifications. Remove the custom ad blocker rule(s) and the page will load as expected.