About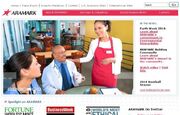 Understanding that care and the environment are interdependent at every level, ARAMARK provides clinical support services that are core to the patient care process and directly impact the entire healthcare continuum. Now nearly 1,300 healthcare clients rely on ARAMARK for food, facility, and clinical technology services.
ARAMARK's clients are supported by a diverse network of people who influence everything from patient care to employee satisfaction. Ultimately, the culture created makes quality care possible. Patient satisfaction, employee retention, patient throughput, operational efficiency – it's all connected. No one understands this better than ARAMARK. That's why we are at the core of quality care.
Contact
ARAMARK World Headquarters
1101 Market Street
Philadelphia, PA 19107
215-238-3000
1-800-ARAMARK

Website
Ad blocker interference detected!
Wikia is a free-to-use site that makes money from advertising. We have a modified experience for viewers using ad blockers

Wikia is not accessible if you've made further modifications. Remove the custom ad blocker rule(s) and the page will load as expected.