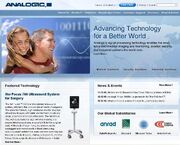 About
ANEXA Corporation, a subsidiary of Analogic Corporation, manufactures and sells medical imaging devices based on Analogic technologies. ANEXA offers a growing family of high-performance, next-generation digital imaging solutions. Currently, No current information on Anexa can be found. See parent company of Analogic Corporation for more info.

Contact
Corporate
Analogic Corporation
8 Centennial Drive
Peabody, MA 01960
Tel: 978-326-4000
http://www.analogic.com/

Second Parts
Second Sources
Link
References
Ad blocker interference detected!
Wikia is a free-to-use site that makes money from advertising. We have a modified experience for viewers using ad blockers

Wikia is not accessible if you've made further modifications. Remove the custom ad blocker rule(s) and the page will load as expected.