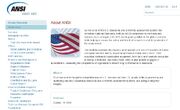 About
Founded 19 October 1918, American National Standards Institute (ANSI) oversees the creation, promulgation and use of thousands of norms and guidelines that directly impact businesses in nearly every sector: from acoustical devices to construction equipment, from dairy and livestock production to energy distribution, and many more. ANSI is also actively engaged in accrediting programs that assess conformance to standards including globally-recognized cross-sector programs such as the ISO 9000 (quality) and ISO 14000 (environmental) management systems.
Mission
To enhance both the global competitiveness of U.S. business and the U.S. quality of life by promoting and facilitating voluntary consensus standards and conformity assessment systems, and safeguarding their integrity.[1]
Reference
↑ ANSI. "About ANSI." Accessdate 7/30/15. http://www.ansi.org/about_ansi/overview/overview.aspx?menuid=1
Links
Ad blocker interference detected!
Wikia is a free-to-use site that makes money from advertising. We have a modified experience for viewers using ad blockers

Wikia is not accessible if you've made further modifications. Remove the custom ad blocker rule(s) and the page will load as expected.