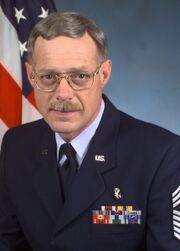 About
In January 1992, CMSgt Alan Christian, a one-time dental technician who cross-trained early in his career, took charge. He focused on standardizing calibration testing and equipment across the career field. In addition, he laid the foundation for Air Force BMET participation in the combined DoD school. Prior to serving as CFM, he served in various positions, including as an instructor in blocks I, II and III of the basic course, as well as the 3-phase X-ray course.
Reference
Links
Ad blocker interference detected!
Wikia is a free-to-use site that makes money from advertising. We have a modified experience for viewers using ad blockers

Wikia is not accessible if you've made further modifications. Remove the custom ad blocker rule(s) and the page will load as expected.