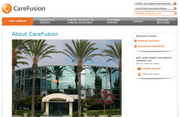 About
Alaris (Care Fusion) manufactures and distributes (previously known as IMED and IVAC) intravenous infusion systems and patient monitoring instruments. last year, it was known as Cardinal Health Systems. CareFusion is headquartered in San Diego, California USA. CareFusion employs more than 15,000 employees worldwide, serving customers in more than 120 countries.
Contact
CareFusion
3750 Torrey View Court
San Diego, CA 92130
858.617.2000
888.876.4287 (toll-free)
858.617.2900 (fax)

Biomedical Training
Does the manufacturer offer biomedical training? Yes!
biomedical training
Links
Ad blocker interference detected!
Wikia is a free-to-use site that makes money from advertising. We have a modified experience for viewers using ad blockers

Wikia is not accessible if you've made further modifications. Remove the custom ad blocker rule(s) and the page will load as expected.