About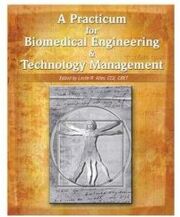 by Leslie R. Atles, CCE, CBET
ISBN: 978-0-7575-4890-1
Copyright: 2008
Edition: 01
Number of Pages: 948
Binding: Hard Cover
"This book was designed and written to help broaden and enhance the training of biomedical technicians and clinical engineers. The focus is on three principal areas: Management, Technologies, and Reference information. It is a collaborative effort that includes contributions from many of the profession's leading experts in various aspects and specialties of biomedical technology.
Although not all inclusive, the intention is to provide the novice with a solid foundation to build upon, and to give the seasoned professional the opportunity to revisit, or perhaps rethink, important biomedical technology issues. Whether you are new to the field, or an established professional, hopefully you will find this book of value both in the classroom and in your personal and professional libraries."[1]
Links
References
Headline text
Ad blocker interference detected!
Wikia is a free-to-use site that makes money from advertising. We have a modified experience for viewers using ad blockers

Wikia is not accessible if you've made further modifications. Remove the custom ad blocker rule(s) and the page will load as expected.