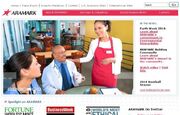 About
"ARAMARK Healthcare is the country's largest independent provider of clinical technology services, serving more than 500 healthcare organizations nationwide. We manage more than 1 million pieces of equipment worth $5 billion for healthcare clients." [1]
Contact
ARAMARK Healthcare
1101 Market Street
Philadelphia, PA 19107
1-800-909-7373

Links
References
Ad blocker interference detected!
Wikia is a free-to-use site that makes money from advertising. We have a modified experience for viewers using ad blockers

Wikia is not accessible if you've made further modifications. Remove the custom ad blocker rule(s) and the page will load as expected.