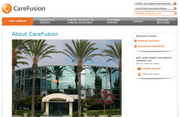 About
"Alaris (Care Fusion) was formed in November 1996 when Advanced Medical Inc. merged its wholly owned subsidiary IMED Corporation with IVAC Medical Systems. IVAC and IMED were already major players in the intravenous drug delivery market, in operation since 1968 and 1972, respectively, and their merger created an opportunity to offer a wide selection of IV devices and customer care solutions to hospitals and healthcare purchasing organizations. Products included IMED's Gemini infusion and IVAC infusion and Syringe pumps, and Vital sign monitors."[1]
Alaris was acquired by Cardinal Health. Today, its company renamed the organization "Care Fusion".
Products
Biomedical Training
Does the manufacturer offer biomedical training? Yes!
biomedical training
Links
Company history @ Funding universe
Alaris website @ Cardinal Health
Contact
References
Ad blocker interference detected!
Wikia is a free-to-use site that makes money from advertising. We have a modified experience for viewers using ad blockers

Wikia is not accessible if you've made further modifications. Remove the custom ad blocker rule(s) and the page will load as expected.